PROFESSIONAL IN-SALON SPRAY TAN OR SELF-TAN
In our salon, you can get a full body spray tan, in under 3 minutes from a private, warm, automated spray system.
Self Tan is just what it sounds like, product you can take home and apply when needed.
Try both! Most people do both- use self tanner between salon visits
Bronzer
Bronzer is a temporary cosmetic color – which is especially great when you want a great tan right now. The cosmetic bronzer washes off in your next shower– just like a make-up foundation.
Bronzers
For a professional in-salon spray tan session, you can select from up to four different shades of Mystic Tan bronzer. The salon professional can help you select the shade that will best enhance your individual skin tone.
Mocha-Kyssed: warm brown undertones for a classic, bronze tan

Island-Kyssed: cool brown with violet undertones for a deep exotic tan

Sun-Kyssed: warm brown with subtle red undertones for a 'day in the sun' tan

Honey-Kyssed: warm brown with golden undertones for a glowing tan.
For self-tanner, Mystic Tan is the first self-tanning line that offers multiple bronzers, each with a different undertone, to create a custom natural glow for each individual skin tone, for every style, season and event.
No Bronzer
For a professional in-salon spray tan session, in the salon, you can choose an extended tan (sometimes referred to as 'clear'). It goes on your skin clear, and your tan develops over the following 2-4 hours.
For a self-tanner without a bronzer, you can use Mystic Tan Gradual Tan. The silky lotion will meet all your skin's daily moisturization and hydration needs, while building a little (extra) color, day by day. Maximum color intensity is reached in about one week.
Both lotions and spray will give a full-body, even tan. The application of the products is the real difference, and the preference is split 50/50.
Lotion is great for tanners who want more control over the depth of their tan. With lotion, you can easily apply less, or more. It does take longer to apply lotion vs. the spray.
Spray is ideal for the people that want to get a quick, easy and even full-body tan. However, there is over-spray, so we recommend applying in the bathroom, or shower, where surfaces can easily be washed down.
For either spray or lotion, consider using an applicator mitt for ideal application. If not, wash your hands after application.
These products are sold at our location as well as online.
In a professional salon, you can choose from multiple scents to add that extra spark to your spray tan experience. Scents include Coconut Lime, Beach Days, Sport, Fresh, Summer Dream and Yum! New scents are added every season – like Starbucks.
All self-tan products are formulated with our number one scent, Fresh- a crisp linen and citrus fragrance.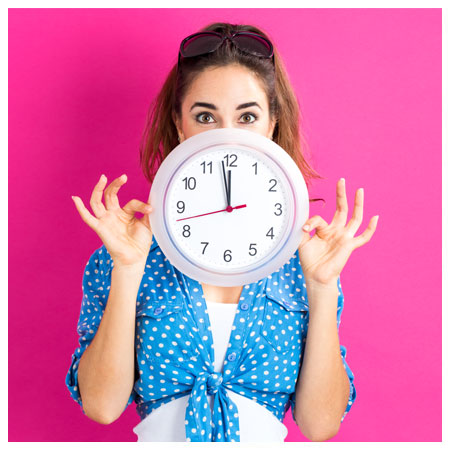 Deeper, Faster…yep, you read that right!
Both Booster and Accelerator will balance your skin's pH level so the tan will develop within 2-4 hours, AND your tan will be darker and more even.
Booster can be applied before using any self-tan product, and Accelerator is a Myxer that can be added to any professional in-salon spray tan session.